Did you know that 86% of businesses are now publishing video content? It's the medium most likely to generate the best ROI and influence purchasing decisions, so what's holding you back?
In a recent Buffer study, the top reasons are lack of time and not sure how or what to create.  If you really want to get the ball rolling, should you retain the services of a video production company, hire an in-house videographer or even go it alone? What are the key challenges to getting your shoot off the ground?
Not all startups and SMEs have the expertise, resources or budget to create video content. There's the cost of hiring creative talent, video equipment and maintenance, pre-production, scripting, location, shooting, special effects and post-production to take into consideration. Unsurprisingly, only 7% of businesses create videos entirely in-house.
Disclaimer: I work for a video production agency, but hear me out – we know that not all businesses are in the position to hire an agency, so let's explore your options.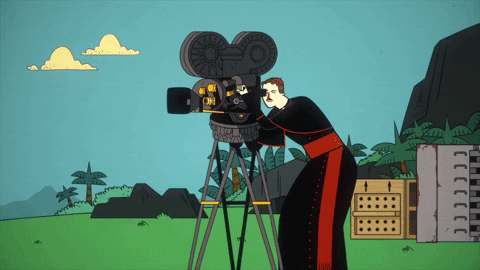 Start by setting your objectives. Do you want your videos to raise brand awareness or sign off with a call-to-action? How much video content do you want to produce? Will it be daily behind-the-scenes snippets for social media? Or do you want a slick video ad campaign? Perhaps a series of explainer videos? Once you've clearly defined what you need, set a budget to manage expectations that covers both production and delivery.
What kind of video do you want?
Most likely you're probably thinking about videos to distribute on your website or across social media.  They may include explainer videos, product demos, recruitment, interview and testimonial videos, live streaming or even a TV-ready ad campaign. An in-house video creative gives you the freedom to produce responsive video content whenever you want it. This is why live streaming and behind-the-scenes footage is commonly produced in-house. Commissioning a video agency gives you the experience of a professional team who would be up to date with the latest trends and cutting edge effects that'll make your video stand out from the crowd. Evergreen, long-form content such as testimonial videos, animation content, explainer videos and recruitment and product demos work best in this way.
How much do you want to spend?
If you hire an in-house creative, have you considered the ongoing investment in equipment and editing time? New hires may not have the experience to do everything you want and worse still, they may even operate across multiple roles within your business. However, this could be budget-friendly if you were to split your video costs with say, photography or social media.  On the flipside, retaining the services of a video production agency could work out more cost-efficient. You could have a video retainer where you pay for concept development only, so that you can opt to produce in-house or have the production company visualise bigger concepts at an additional cost. With this way, you'll get a fresh, creative approach without having to commit to video production costs every month.
Quality
A video production agency can gift you with expertise and access to the latest equipment an in-house videographer may not possess. Over time, they become an extension to your business, growing with you while remaining laser-focused on video production only. However, quality doesn't have to be compromised if you decide to hire in-house as there's an abundance of video editing software and smartphones out there to shoot your own content. Just be sure to invest in their experience (video marketing is a bonus!) otherwise there's a chance you won't get the results you desire that will reflect your brand: ace writing, message alignment, lighting, sound, scripting, editing and distribution.
If you'd like to chat to us on how a video production retainer could work for you, drop us a line at 0117 258 0011.
Love this post? Sign up to our monthly newsletter for video marketing, insights and trends direct to your inbox.
Nina Feb 25th, 2019