You know you need to make video but you're stuck in a rut.
96% of consumers say that they're watching more videos during the pandemic. 91% of marketers feel the pandemic has made video more important for brands. Yet many have seen budgets restricted and plans to make video shelved.
But if you have the budget to create video assets, what else can you make that can sit alongside the one lone explainer on your company's YouTube channel?
The first step to making a video is often also the hardest: coming up with good ideas. The best concepts require a lot of planning and production. But if you're using content that already exists, you can form the basis of your video easily. Be it a FAQ section that could be made into a YouTube video or induction portals that can be made into a video series, you probably possess plenty of existing content that could be simply converted into video.
We've identified 6 ways in which you can turn any of your existing content into video forms:
Q & A videos
Got a FAQ section on your website? By addressing common questions in the form of a video can be an effective method to quickly generate engagement and can prove useful to a potential buyer shopping around.
With Q&A videos you can:
Share to social media, include in an ad campaign or add value to a FAQ page as a visual aid
Rank higher in YouTube and Google search results by optimising your video for searchable long-tail keywords (the YouTube search bar is helpful in generating long-tail keyword ideas).
Example:
Headspace's YouTube channel is abundant with video topics that cover all aspects of meditation. Its 'Meditation Tips' playlist covers commonly asked questions relating to meditation. This video on anxiety has generated over 200,000 views.
'How to' videos
Thinking in the same vein, if your product or service is one that you could demonstrate on video, then a 'how to' video is a must. Again, this will drive a lot of engagement as customers who are look for guidance on building or using a product are very likely to watch the whole video. It is less repeatable than a Q+A but with new products comes new 'how to' videos. And the bonus? 'How to' searches are incredibly popular (and here's our guide to making effective explainer videos). 72% of people prefer to learn about a product or service through video.
With 'How to' videos you can:
Showcase the personality behind your brand.
Go one step further and include 'How to' in your video title and description. YouTube videos with 'how to' in their titles are more likely to appear in Google Video search results. Be sure to change your video file name to your primary keyword. Google may not be able to watch your video, but it can read all your video's file name to understand what it's about.
Add value. As attention wanes, viewers prefer to watch short videos, so consider multi-clips or hyperlapse to speed things up.
Build trust and loyalty. Make a helpful series of 'how to' videos relating to your industry or brand to keep viewers tuned in.
Ditch the paperwork in your customer aftercare. 'How to' videos are great for resolving troubleshooting issues, so be sure to automate these videos to new customers.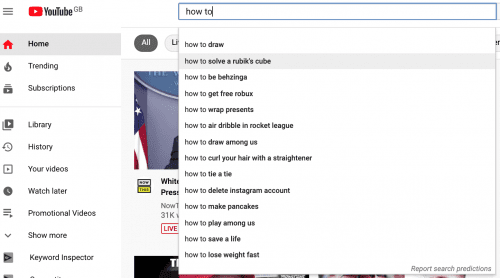 Share some big news
Got some exciting news to share? Instead of tweeting it or writing a post on LinkedIn, make a short video of your announcement. People are far more likely to share a video than a written post. This could be as simple as an animated graphic (try Giphy for memes) or you could have the face of your business do a piece-to-camera.
Sharing news on video:
Can be cheap yet engaging. You don't have to hire a videographer to do make announcement videos. Shoot on your mobile and post straight to social.
Drive social engagement. Behind-the-scenes moments like these can be personable, so make the most out of your announcement and don't forget to respond to comments.
Induction videos
For new starters, the process of formally inducting new employees into your organisation often involves lots of paperwork, forms and online portals. Onboarding and induction videos can cut time spent on the induction process and result in a smoother transition too. Try introducing team members as well as a management welcome, and don't forget to include your company's vision, values and benefits. If you have a lot of information to cover, consider making a series of videos, or an interactive video to cover all bases. Here's our guide to making recruitment videos.
Induction videos can:
Aid employee retention. Businesses with good induction processes retain 91% of their first-year employees.
Help make newcomers feel welcome and immerse them into your company's culture – something that's hard to do without the voices of team members.
Cut down time spent on training new employees.
Bring consistency to your messaging.
Example:
An induction video created by Skylark for new staffers at the AA featuring the company's history.
Blog
Have you got any blog posts that could translate well into a vlog? This would be great as you have a ready-made script to hand. A well-executed vlog is arguably more time consuming to create than a blog, and will require a lot of restructure. Making edits, adding custom thumbnails and graphics can take up resources, but fortunately you won't have to spend as much time on research or content planning.
Video blogs can:
Boost dwell time on your blog posts. Embed vlogs into your blog posts for more 'stickiness' and value too.
Drive more viewers to your blog or website. If you're hosting your vlog on YouTube, make sure your title is click-worthy, has a good description and is all tagged up.
Boost engagement across social media. Share away on your social media feeds, embed to your website or promote on email lists.
Complement your content marketing. Blogs are still powerful for SEO, but vlogs have their own appeal too. 44% of internet users now watch vlogs every single month!
Example:
Vegan subscription meals brand Allplants has a dedicated blog PLANTED, which covers topics such as recipes and the environment. A separate YouTube channel features playlists similar to the content found on its blog. A 2020 playlist series, 'Chefs Try' features professional chefs trying vegan food launched in well-known food outlets, reflecting blog posts such as this post on 2021's Veganuary offerings.
Video podcast
If blogs create reach and videos create engagement, then audio creates trust. Do you already make a podcast? Why not film it too. Most podcasters nowadays diversify by also filming their recording sessions allowing them to be share to social platforms more easily. This also lends itself well to micro-content using short clips. Share a nugget of your podcast that was particularly interesting or entertaining to Twitter. A 20 second video clip can very easily go viral but if it was just audio with a still image, it's much less likely.
Video podcasts can:
Complement a content-stacking approach. Putting a face to a voice allows your audience to get to know you.
Drive more listeners to your podcast. Video podcast highlights could be uploaded onto your social channels to promote an upcoming show or form part of an ad campaign.
Provide more context to your podcast with more behind-the-scenes tidbits.
Example:
Street Agency's webinar podcast series is promoted as a podcast, but a video podcast version is also available on the marketing agency's YouTube channel.
Download a FREE video brief template
Define requirements, resources and goals for your animation or live action video