Over the past decade, there has been some improvements in the Film and TV industry regarding gender inequality. Yet only one in four of the key behind-the-scenes roles are taken up by women such as directors, producers, editors and writers. Even with positive change throughout creative industries and beyond, women are still directly affected by gender-based inequality in both their careers and personal lives. In this blog we will highlight some of the key factor involved in achieving gender equality in Film and Video Production and how we go beyond at Skylark Media.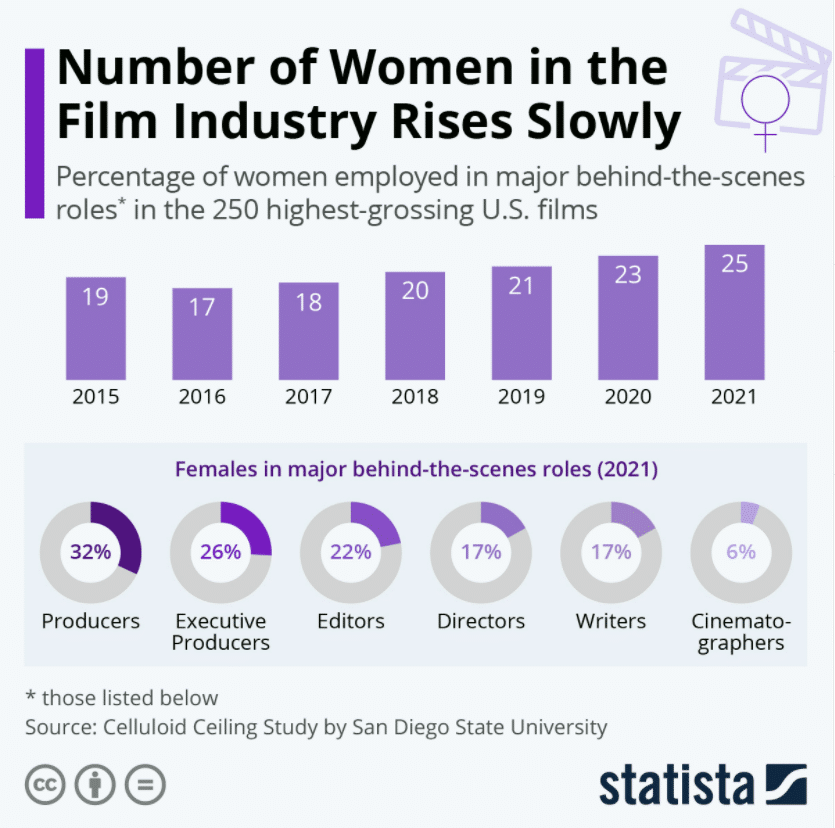 Image: Statista/Celluloid Ceiling Study by San Diego State University.
Leading film festivals such as the Cannes Film Festival (TAG) have only ever given out one Palme d'Or award to a female director.
The pay gap is still a problem. According to data assembled by Variety UK film and television studios are still disproportionately male-advantaged. With less roles offered to females and a major pay gap in the industry it is no wonder that the movement for change is taking ever so long.
Gender stereotypes in advertising is a great area where you can see the improvements and changes in our industry. It gives us an insight to the past and future of gender roles and normalities. One of the main adverts that comes to my mind when remembering my childhood is the Yorkie – It´s NOT for girls advert. This sort of incomprehensible advertising was still allowed until 2018 when the Advertising Standards Authority (ASA) placed regulation that ads "must not include gender stereotypes that are likely to cause harm or serious or widespread offence".
The women behind Skylark Media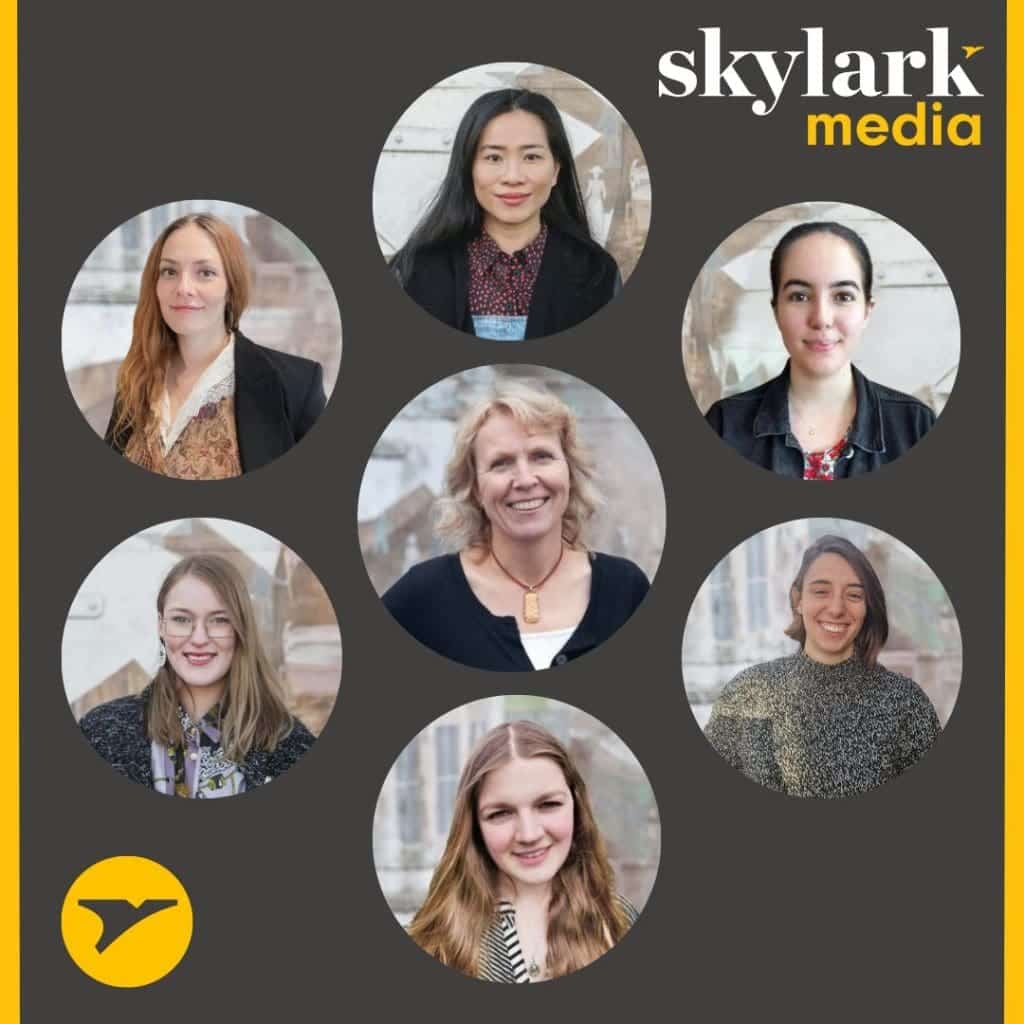 At Skylark Media, we value the importance of diversity and gender equality, undergoing training through Screenskills and implementing a DE&I policy. Founder Jo Haywood began her TV career in the early 90s making science documentaries for the BBC and Discovery Channel. As a female-led business, we take pride in having gender diversity in the roles we offer throughout shoots and production. Our roles in marketing and production are made up of 50% females creating an equal balance between both genders. We've even supported clients that request all-female crews. In 2022, 78% of our videos included a female voice and 61% of our videos included a racially diverse mix!
"It is important to tackle the representation of women in different roles to make sure that we make a positive impact on the video production industry."

– Jo Haywood.
Ezo Yildiz, our Digital Marketing Assistant was born and raised in London; her family were refugees in the UK. "I am a part of the first generation in my family to study at university and live independently as a woman. If the circumstances had been any different, I would not have had the freedom to get an education. There are still women in the Middle East and over the world who are facing such problems. I want gender injustice to change in both the Film and Media industry as well as globally and for more to be done for the women who cannot make their voices heard."
Our inspiration:
Jo Haywood, CEO:
Inspired by: "What inspires me is the power of video for storytelling. The story I want to tell is about a sustainable future, and how we best prepare ourselves for that. With video, the mix of pictures and sound is the perfect vehicle to engage with people and crystallise a message whether message an animation or a live action"
Nina Postans, Head of Marketing
Inspired by: "I'm inspired by the women I surround myself with – above all, my mother. Growing up in a traditional Chinese takeaway, I never fully appreciated the sacrifices that she made – working long hours – so that we were afforded a different life. It took a good 10 years living in Britain before she finally decided to learn to speak English! She's stoic, resilient and always put family first. I'm also inspired by today's kids – they're assured, demand action and have a desire to change their communities and the world."
Noomi Yates, Creative Director:
Inspired by: "Visually I am inspired by artistic auteur directors like Lynne Ramsey. She has a real poetry in the details of her work which connect with the viewer in such a profoundly moving way. Every single one of her films is a masterpiece. She is the undisputed queen of the tear-jerking close up. In a different sense, I am inspired by the late Polly Higgins, a barrister who made it her life's work to introduce a law of Ecocide to protect the planet. She died without having realised her dream, but her work continues through her foundation, and she never gave up hope. Which considering the magnitude of the environmental crisis we face globally; I find her incredibly inspiring."
Ezo Yildiz, Digital Content Creator:
Inspired by: "I am inspired and motivated by all women in my country who did not have the right to an education. The women who come from a generation where they had to give up their lives to fulfil the gender-biased role of being a 'woman'. This will continue to motivate me to do good in both my personal and work life. It feels like a privilege for me to come from a background where my parents did not have an education and to me being able to attend university. The efforts for gender equality in the UK cannot be unseen however I want to live in a world where Women across the globe have the same rights and freedoms."
Iiris Maki, Editor, Motion Graphics and Colour Grading:
Inspired by: "I am generally a super visual person, so I get inspired by other visual things, like nature, flowers, the sea, and architecture. This also leaks into the more visual work that I do like grading, and just in general life. I think it's super inspiring to be able to inflict change, whether through a human-interest doc or explaining environmental things that can help other people make better choices or know how to help."
Elsa Estaban, Video Content Creator:
Inspired by: "I'm a person deeply rooted on emotions and energetic connections. So for me inspiration feels like a multicolour flying dragon on which I need to jump on before it flies away, and it's a wild, exciting ride. It normally comes from passionate women and people that I encounter on any aspect of my life that are trying to create social and environmental change against a very complex and quite rotten society. This can be on the shape of big events or small personal acts.
This might sound a bit strange, but my ultimate biggest inspiration has been the discovery (or un-learning) of joy as the ultimate motivation. The patience and self-care as powerful tools for meaningful personal, social and environmental impact. It's been real discovery and a constant exercise. So, to everyone who's showed me and helped my expansion onto this path of self-worth and passion as the ultimate radical move, thank you."
Rebecka Pasieska, Illustrator and Animator:
Inspired by: "I think inspiration can be a tricky thing to pin down as it often comes out of nowhere, and quickly vaporises if not caught in the moment. To help capture these moments, I usually keep my orange notebook close at hand. So, when something does draw my attention, whether that's a piece of art, a passage from a book, or a passing thought – I can jot it down to reflect or expand upon later. More specifically I often find myself inspired by fairy tales, oil paintings, golden age animation, but also computers and technology. I think as someone still early in my career I'm still in the process of harmonising my interests. A project which is motivating in of itself. As I enjoy learning new software, which can be incredibly powerful tools. Also adapting and drawing inspiration from the past. This exploration of tools and techniques, combining the classical and contemporary, I find in itself compelling."
How to break into the creative industry:
Doing work experience or an internship in the field you are interested in will provide you with relevant practical experience. You are more likely to be taken seriously by employers if you build up more experience.
The arts sector has very low training budgets. Don't miss the opportunity to get training from a major employer early in your career. Lack of professional qualifications and training can prevent some people from progressing in the creative industries.
Make sure you keep up with the industry's developments and what is going on.
Be persistent and don't give up. The creative sector is highly competitive, and perseverance is essential in order to get your foot in the door.
Try some of the Screenskills free training courses, a great place to start.
Consider working freelance, freelancers are always on demand in the creative industries. If you are struggling to find your first job it might be best to build on your experience and portfolio.