When it comes to your company video which style should you go for? Which stage of your sales funnel are your customers? Do they know of you already? Will they respond to a brand awareness piece or are they looking for a testimonial for your product?
To help our clients decide which style of video content is right for them, we employ a Hero, Hub, Help framework.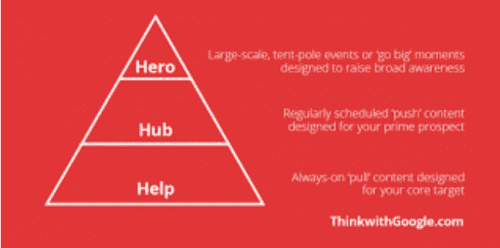 HERO VIDEOS
First up, Hero campaigns, designed to inspire. These high-impact videos introduce your business to a large new audience, but they usually cost more so are made less frequently.
As an example of a company that's getting it right I'm going to use Squarespace. Here's their Hero film:
You'll notice that it's all about dreams. And if you're an entrepreneur planning on starting a business that's exactly what you're doing; will you be a baker, a clothes designer, an engineer? Whatever you choose you'll be needing a website, and now you know that Squarespace understands you and your ambitions.
Download a FREE video brief template
Identified your hero, hub or help video? Write your video brief today
HUB VIDEOS
Next in your marketing strategy there's the essential Hub content that tells your customers what you're about, what you sell and your USPs. This regular content generates brand awareness and trust.
Here's Squarespace's Hub ad outlining their service:
It's much more literal than the Hero video. It shows the audience that Squarespace is all about websites that provide well-framed templates.
HELP VIDEOS
Then your most frequent content should be designed to pull in users based on their searches and interest. They'll be product demos, tutorials, 'how to' and testimonial videos.
We all know this kind of video. We search them out because it's one of the easiest ways for us to get the information we need. And when we find one that answers our questions we feel enormous gratitude to the company that made it.
THE POWER OF WHY
If you're a fan of Simon Sinek, you can also look at your strategy for video content as the Why (Hero), What (Hub) and How (What) of your business.
THE SALES FUNNEL
Now each of these videos creates a different emotional response and are instrumental in engaging your customers at different stages through your sales pipeline.
HERO
The Hero videos sit at the top of the funnel to promote attention. These would be your TV ad or social media campaign and if done right will be highly shareable and have viral potential.
How to get it right:
Focus on your hook
Focus on a compelling story line
Know why your customers choose you
Invest time in making your video visible – online, offline and with hashtags
HUB
Hub videos are helpful as people move down your sales funnel. You can present yourself as a thought-leader and build trust. This regular, engaging content is pushed at regular intervals to the relevant target market to raise brand awareness.
How to get it right:
Show your audience what they want to see to trust your brand
Tell inspiring stories that will stay with viewers
Be interesting and informative
Publish regularly and make your videos cohesive and on brand.
HELP
Help videos are always-on content that is designed for your core target. They play their part as customers near the conversion stage of the sales funnel and will quell any doubts by showing your customer the sort of service they'll get and why they should buy from you.
How to get it right:
Focus on the most searched for phrases and optimise your videos for search terms
Have a strong call to action
Encourage comments and discussion to engage with your viewers
So with the sales funnel in mind, you can tailor your video content to the stage your customers are at in their buying journey. And whatever you're filming, make sure you sweat the assets for behind the scenes content, customer testimonials, memes, social snippets, bloopers. Your customers will love you for it.
This extract taken from Skylark Media's Managing Director Jo Haywood speech at Business Showcase South West seminar in June 2019.
Love this post? Subscribe to our monthly newsletter to receive regular insight, tips and tricks on the world of video marketing.