If you want to capture your audience's attention in a sea of distractions, what do you turn to? Video, right? Video has a ton of benefits such as increased conversion rates. It appeals to visual and audio learners, consequentially helping more people retain your message. But with everyone drifting towards video marketing, how do you make sure your message doesn't get drowned out? Let's just say that interactive video does it better.
Interactive content is arguably even more powerful than linear video, taking the number one spot when it comes to engaging audiences, and it's not just down to capturing their attention.
What is interactive video?
An interactive video can be as simple as a YouTube card at the end of a video suggesting what to watch next. Or it can be as intricate as inserting forms, quizzes or branches where viewers can make their own choices to influence the story line. Interactive videos allow viewers to explore your content in a non-linear way. 360 video encourages the viewer to pan around the footage themselves, whereas live streams allow input from viewer through live chats, landing them both in this genre.
Here's an example of an interactive recruitment from Deloitte which uses gamification to explore if applicants fit with their company culture.
Where can I create interactive videos?
If you want to get stuck into some interactive video creation, here are some platforms and tools that are currently available, with a range of different features.
TOOL
TIERS
PRICE
FREE TRIAL
FEATURES
WIREWAXMonthly plan
Single campaign$1,500 – $50,000 $7,500 – $500,00014 daysClickable hotspots, branching, camera switching, 360 video, slider views, and analytics.HapYakAnual education Anual enterprise$1,000 +
$15,000 +7 daysLinks, chapters, quizzes, shopping carts, personalization, HTML5 video layers, video integrations.Rapt MediaAnnual plan$7,200 +30 daysCompose, host and analyse. Connect videos, link to additional content and calls to action, manage captions, etcDilogRBasic
Pro
Enterprise$83/month
$249/month
Available14 daysQuestions, surveys, polls, tracking.EkoN/AFreeN/AVideo branching, intuitive design.H5pN/AFreeN/AA range of question types from multiple choice to free text, fill in the blank or drag and drop, interactive summaries, labelling, links, etc.WootagStartup plan
Business plan
EnterpriseFree
$99/month
AvailableN/APop ups, e-commerce features, locations, chapters, offers, polls, booking and lead generation through sign up windows.Cinema8Contact for pricing Gamification, clickable areas, questions, dynamic images, buttons, social sharing, etc.
What about interactive social media?
Social media is the main stage for a lot of marketing efforts, so what do the top social media platforms have to offer in terms of interactive content? Facebook offers polling options for live and on-demand video in addition to gamification for live video. Facebook also supports 360 video, as does YouTube.
As the home of video, YouTube has the most complete selection of interactive options including call to action overlays, cards, end screens and shopping cards. Instagram also has an interesting selection of interactive features available on Stories, from location tagging to clickable links and swipe up functions, live polls and question stickers. These can be cleverly used to engage your audience or find out more about them.
National Geographic regularly put out engaging stories on their Instagram, like the example below which explores the bathysphere expedition and promotes the printed version.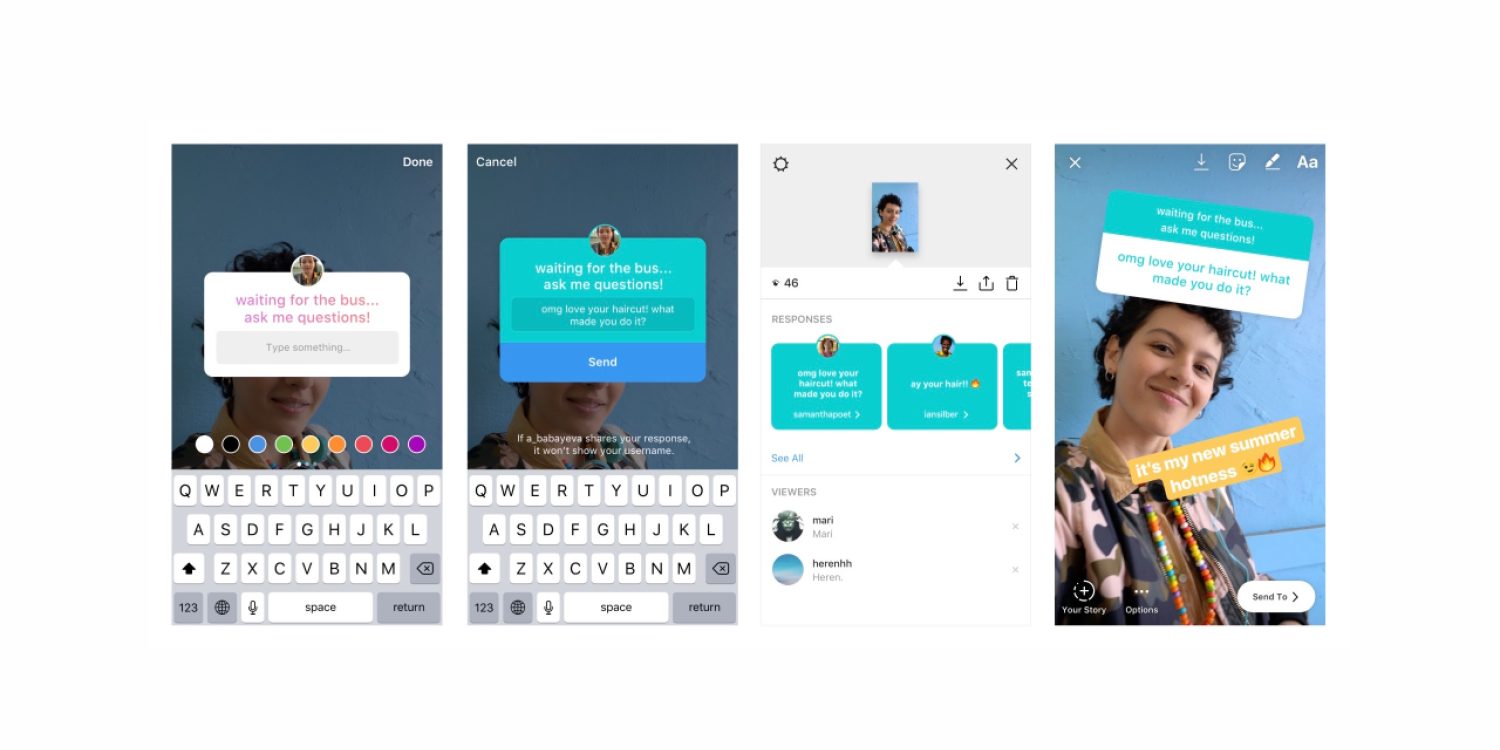 Why is it so effective?
Generation Z and Millennials are all about trust and loyalty, which is why authentic marketing methods like referrals, personalisation and educational pieces are proving far more effective than traditional methods. Interactive video is powerful because it can help you connect to these demographics through quizzes, response forms and video branches that allow them to take control of the story and personalise their connection with your brand, but it also gives you more metrics to work with.
Thus, using a poll in your video can help you segment your audience, in the same way a video branch choice can tell you a lot about each viewer. This is particularly useful for recruitment videos because you can find out as much about the candidate as they do about your business.
Ready, player one?
We've established that interactive video can be used to express your brand story in a non-linear fashion and engage customers with quizzes, polls and gamification. B2B and B2C businesses can use interactive content to educate and explain, while taking away information about the viewer. Non-profit businesses could use interactive social media tools to gauge awareness around a campaign by asking for beliefs around a topic and going on to reveal the true stats that may surprise people, resulting in high shareability.
Skylark Media love to experiment with the latest techniques, and we encourage our clients to do the same. If you're interested in creating interactive video content for your brand, get in touch to see how we can guide your story in a non-linear direction.