From the moment I heard about B Corp and what it stood for, I was excited. Here was an accreditation that really meant something; that gave businesses like ours the opportunity to get recognition for their modus operandi. After all, Skylark was set up by a woman with the aim to balance purpose and profit!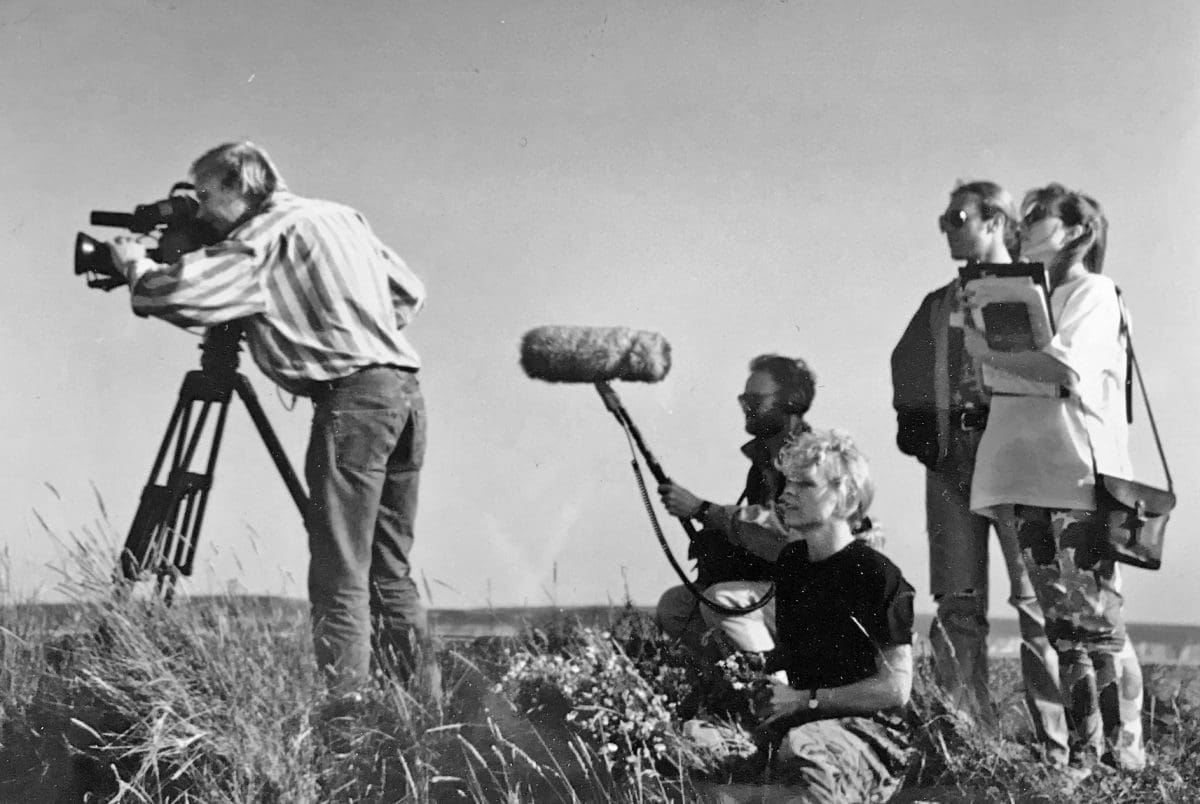 My mission in life has been to use the power of video to promote the message of sustainability. With a degree in biology, I made many documentary series for the BBC, C4 and Discovery Channel including programmes to highlight the potential crises of climate change and pandemics (was anybody listening?), before launching Skylark Media in 2005.
From the outset the company was set up according to B Corp principals. Although I didn't know it at the time: we are a highly collaborative team that works flexibly and lives locally. We work with many purpose-driven organisations, select our suppliers on their green credentials and volunteer for community projects such as tree planting. But the crucial thing is that we consider the environmental impact of every business decision and act accordingly.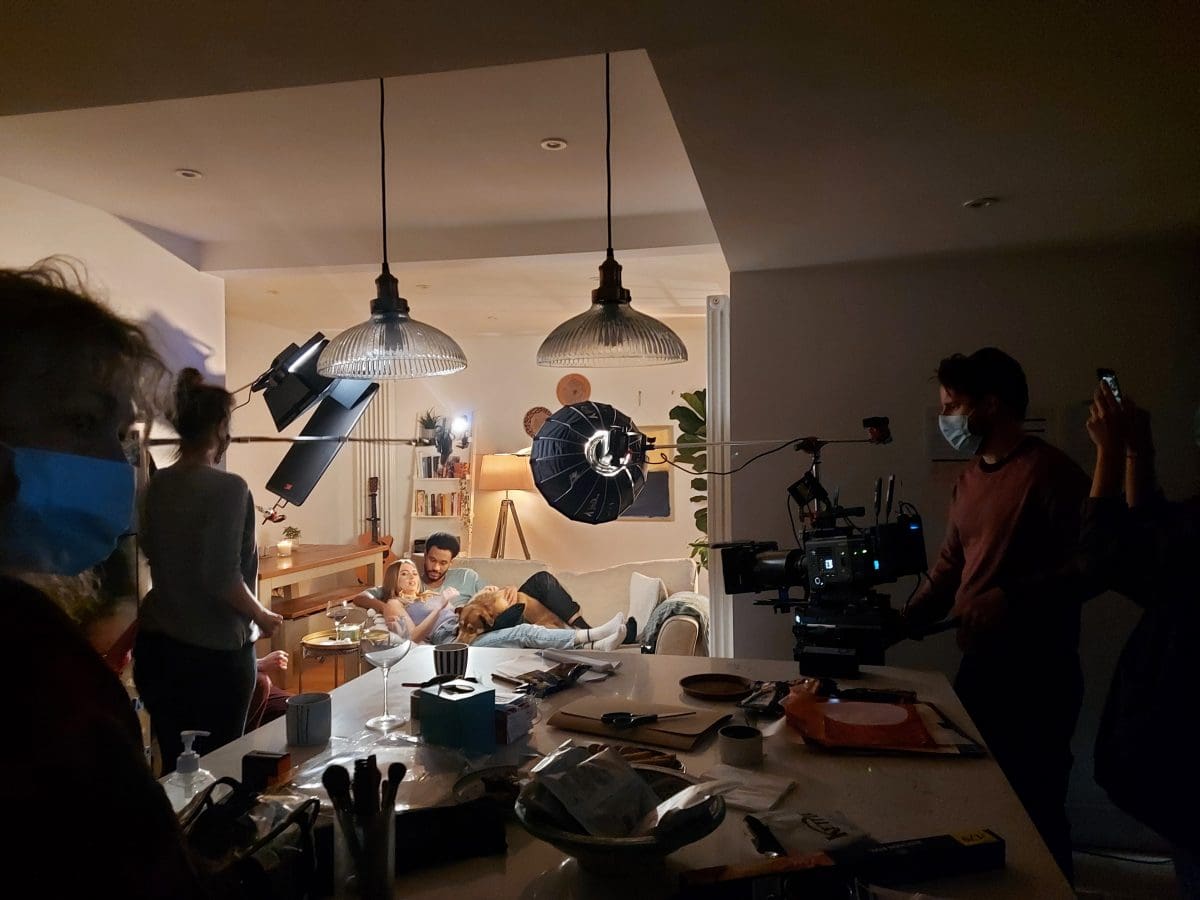 Some of our environmental practices include car sharing, working remotely, catering vegan or vegetarian on shoot, reusable cups and minimal plastic waste, hiring rather than buying camera equipment. Last year, we undertook in Ad Green's sustainable production training to further improve our practices. If you're in advertising production, I'd strongly recommend these helpful and free sessions to help lower your carbon footprint. The materials that go into the manufacture of tech are extremely costly to the environment. We're so passionate about this we made a video about it, so we often rent rather than purchase new kit.
Getting started with the B Impact Assessment
I embarked on the B Impact Assessment in 2019 and through the quieter days of the pandemic, had time to complete all the sections and change our articles of association. Andy Hawkins, the founder of Business on Purpose, was a great support and advised me to fill out the impact assessment by breaking the sections up into manageable blocks. You can't complete the impact assessment in one sitting. It requires a lot of thought, reference and evidence, so I downloaded the 'active assessment' into an Excel spreadsheet. By dividing the assessment into digestible blocks that provides an overview of all my answers. It meant that I could scrutinise – and improve – all the elements clearly.
Collate feedback from your staff
It's one thing to outline your employee practices, it's another obtaining staff feedback. We some trepidation I asked the Skylark team to fill in an 'Engagement and Satistaction' survey. I needn't have worried, turns out we're a happy bunch. But on the analytical side, this is the sort of report that B Corp certification requires and it was a really powerful exercise; a measure of where we are now so that we can monitor change and hopefully improvement. Whilst working remotely measuring our individual carbon footprint is a challenge, so we used the online scoring system, Giki Earth so that we all have a score that we can track and can see suggestions of where we can make improvements.
Spreadsheets give a helpful overview
No-one says that the B Corp impact assessment is an easy process – but it's certainly worth the wait. There are pages after pages of questions – but that's why B Corp is the gold standard in business accountability. If you download your active assessment into Excel you can see all the questions and your answers in one place. Then create a separate column in your document to add evidence, so that you have everything to hand for your assessment. I added in links to documents, video content and URL so that I could back up any statements with incidences.
Interrogate your supply chain
Not literally! But do take a look at your suppliers list and ask yourself, 'could we do better?'. It turns out that 66% of all our expenditure is from suppliers based within 200 miles of Skylark's HQ. Every time we change a supplier we try to source locally. These range from animators to kit hire to business insurance.
Be honest
It's tempting to check off things that your business plans to do or aspire to, but the B Impact Assessment needs to be an honest view into the impact your company has now, not what it hopes to be. It took us 18 months to get certified. During this process, we found ways to improve what we do for our colleagues and customers. This meant we reviewed our policies and contracts regularly. I respect the fact that businesses are re-certified every few years as this enables us to strive for improvement.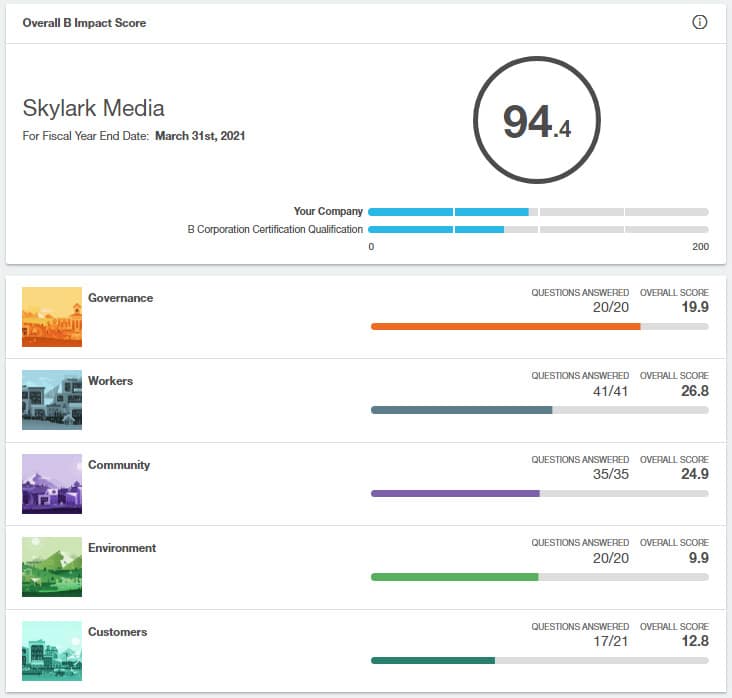 With all the questions answered and evidence uploaded, we busily prepared for our face-to-face assessment. This all went swimmingly, in fact when I mentioned the results we'd have recently for purpose driven enterprises, our verified score went up from 91 to 94.4. Not everything is perfect though. We've since moved from a local CRM to Hubspot, an American company. It's helped balance out our staff's workload more effectively and streamline our processes. Although this may affect our score when its time to be reassessed, we're pleased that our new CRM that has its own ESG policy that they are constantly reviewing.
Improvement is a great thing
The assessment process taught me some valuable lessons – namely, there's always room for improvement! We used to host all our data storage on a physical server at our old office, but since we work hybrid/remotely, we've gone for cloud-based storage which is better for the environment. Video content on websites has its own digital footprint – so we've made little changes such as altering the length of the video banner on our website to less than 30 seconds. Part of our service is that we offer valuable video marketing advice to clients who are looking to improve how they host their video content.
We also looked inwards at our staff and career progression. We were offering skills-based training, but B Corp questions highlighted that we needed to expand this to include cross-job and life-skills training. This is something that's going down really well with the team.
With all the hard work behind us, it's now time to get to know our fellow B Corp members and find out what goals they are setting to help them drive continuous improvement. For the Skylark team, we're integrating good environmental practices ever deeper into our working practices. Also we are creating a series of animations on matters close to our heart – Skylark Originals. The series will offer practical solutions to reducing people's environmental impact and we hope that the messaging will be amplified across YouTube and beyond.
More about B Corp:
The B Corp certification addresses the entirety of a business' operations and covers five key impact areas of Governance, Workers, Community, Environment and Customers. The certification process is rigorous, with applicants required to reach a benchmark score of over 80. Also while providing evidence of socially and environmentally responsible practices relating to energy supplies, waste and water use, worker compensation, diversity and corporate transparency. To complete the certification, the company will legally embed their commitment to purpose beyond profit in their company articles.
Skylark Media is now part of a community of 4,600 businesses globally who have certified as B Corps. The B Corp community in the UK, representing a broad cross section of industries and sizes, comprises over 600 companies and include well-known brands such as The Guardian, innocent, Patagonia, The Body Shop and organic food pioneers Abel & Cole.
"Being able to welcome Skylark Media to the B Corp community is hugely exciting. Their commitment to doing business differently will be an inspiration to others and really help spread the idea that we can redefine success in business to be as much about people and planet as it is about profit".

Chris Turner, Executive Director of B Lab UK
About B Lab UK
B Lab UK is transforming the economy to benefit all people, communities, and the planet. A leader in economic systems change, our global network creates standards, policies, and tools for business, and we certify companies—known as B Corps—who are leading the way. To date, our global community includes 4,600 B Corps in 79 countries and 153 industries, and over 150,000 companies manage their impact with the B Impact Assessment and the SDG Action Manager.