Congratulations to our tech client, BlueVenn on their big Grand Prize win at the Estee Lauder Companies' Virtual Hackathon 2020! The Hackathon is part of Tech Day of Pink, an arm of The Estee Lauder Companies' Breast Cancer Campaign. The campaign which calls on the global tech community to support life-saving breast cancer research.
Skylark played an integral role in filming and editing BlueVenn's submission: a breast cancer support smartwatch app called Eve. Named after Evelyn Lauder, the app creates a personalised aftercare experience. It brings together biometric data and user input with medical advice, treatment information and planning tools, in order to support the patient's wellbeing.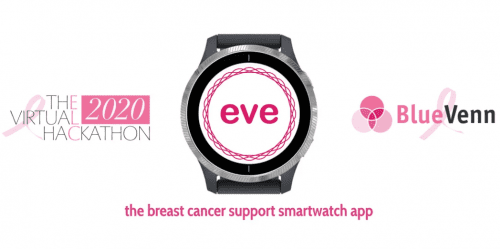 We were brought on by BlueVenn to create a 4-minute video submission – with just four days to the deadline. We filmed the team in the BlueVenn office and via Zoom, where each presented Eve's projected functions. Over the weekend, the app footage was masked, green screened and motion tracked onto the watch face. Following this, music and stock footage were added to the first draft, which was delivered to our client on Monday morning. Second round edits were completed by the morning of the deadline, with BlueVenn going on to beat 91 other teams to scoop the top gong.
Chris Hares, VP Technology at BlueVenn, said:
Through the timely delivery of information, and by demystifying the complex treatment process a patient will go through and their psychological wellbeing, we hope that intelligent intervention can occur when unusual biometric data is recorded in the app. By providing this data back to a clinician/aftercare specialist, the app will aim to further benefit the personalization of the patient's treatment and recovery plan.
You can watch the winning video submission here:
This year's ELC Hackathon included over 800 participants from 18 countries, and ran as a virtual event taking place between September 24th and October 8th. Find out more about the ELC Breast Cancer Campaign, or make a donation here. If you have a video brief for an innovative idea and need help bringing it to life, get in touch with Skylark today.