As Skylark Media turns 15 year's old this year, I've been reflecting how it all began.
When I left London University back in the 80s with a degree in Biology, my mission was to save the planet by spreading the message of sustainability. During the 90s I made science documentaries for the BBC and Discovery Channel. But it was in 2005 that I mustered up the courage to set up my own video production company. After all, video was the best medium to amplify the importance of sustainability.
The name 'Skylark' came to me whilst lying in a meadow looking up into the limitless blue, listening to the summer soundscape. Names for a business can be hard to come by, but I'm delighted with ours and that it still epitomises how we work – purposefully, skilfully and creatively.
Back in 2005, Skylark Media only employed myself, as an editor of wildlife documentaries. But when my kids started at secondary school in 2011, I landed some corporate clients and needed some freelance help. At the interview I met both James Sampson and Joseph Goldman. Their enthusiasm was infectious and they became employee 2 and 3. I'm delighted to say I work with them still. James is now Skylark's Creative Director, and Joseph is a freelance producer in London who most recently produced Stormzy's music video. We welcome him back on projects time and time again.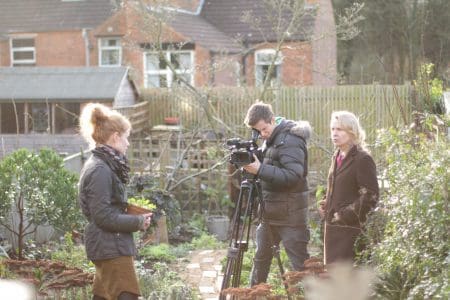 Over the years Skylark has benefitted from working with many outstanding creative and entrepreneurial people and I like to think that if they're not still with us, we've been an important part of launching their successful careers.
Skylark now has a talented team of people working across animation, live-filming and video marketing. We are proud to work with inspiring clients, including Ecosurety, Longleat, Forestry England, City to Sea and BlueVenn and when lockdown is over we're looking forward to returning to our stunning offices above the studios of Aardman Animations.
I'm not going to lie – running a business isn't always easy (especially in 2020!), as I'm sure my peers in the creative industry will agree. Now more than ever, it's vital to support each other and take collaboration to another level. Over Lockdown, 92% of independent agencies have either collaborated with another agency to take a brief, or are willing to. That's fantastic news – and we hope that in our partners we're able to fill skill gaps, deliver great client service and aid creativity where we can.
During the Lockdown, Skylark underwent a brand makeover (much akin to therapy!) and this week we unveil the new website. Of course, every planning conversation had to start with our 'why' and although we've been in business a long time, I'm proud to say that this remains: to promote sustainability through video. This is made possible by working with businesses who have a shared vision and are planning for a greener future.
I hope you enjoy our new brand and the new website and join us in celebrating Skylark's 'crystal' anniversary.
– Jo and the team