It's hard keeping up with the speed of innovation in fintech.
One of the biggest challenges is that of adoption. How do you make sure that it's your brand that's taken up by your customer base – allowing you to scale up to the next level? It's one thing doing the research and development and getting systems engineered to perfection. But it's quite another when it comes to marketing and getting your application to an eager marketplace.
In this blog, we cover the 5 video styles best suited to fintech businesses:
The credibility video
The recruitment video
The testimonial video
The explainer
The helpful video
The credibility video
If you're introducing a new financial services brand, one of the key challenges is to establish trust and credibility. How do you convince potential users or investors to entrust their money with you? A video with a clear company mission outlining your mission and expertise can give you credibility and humanise a faceless brand.
Prodigy Finance's founder Cameron Stevens shares his story on the company website:
Digital wealth management gurus Nutmeg place staff at the core of its video strategy. On its Facebook page, members of Nutmeg's investment teams are introduced and regularly feature in 'thought leadership' vlogs. The company's hero video features CEO Nick Hungerford:
The recruitment video
Whether you're hiring a lead developer, a product manager or a scrum master, finding the best talent for the role is both costly and time-consuming. They know their worth and are choosy about who they want to work for. Your video will need to focus on communicating a compelling offer. With plenty of competition targeting top candidates, a recruitment or culture video can sum up a business in minutes. And as your business scales up, consider more videos for internal communications such announcing a CSR initiative or news of a product launch.
iwoca brings together management team and staff in a culture video that tells of life inside iwoca – and out. It's further supported by shorter iterations on Facebook and behind the scenes introductions to the team:
GoCardless highlights its 'yes' culture in a recruitment video with a message of inclusivity, diversity and opportunity:
The 'happy customer' video
Your product or service works wonders – so shout about it. Sprinkle testimonials and case studies throughout your website and social media to illustrate your track record. A video featuring staff might add credibility, but nothing beats a video of customers speaking favourably about their pain points and how you fixed it for them.
Contactless card reader Sumup makes the most out of its social media channels with lots of personal stories, like this family-run footwear business in Milan: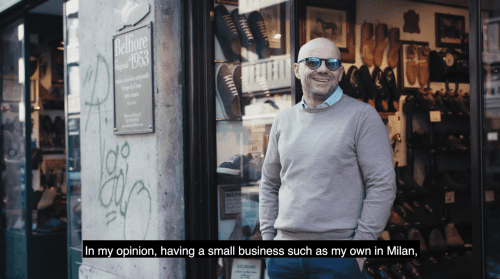 Paymentsense goes further than the average video testimonial. Its customers feature in the hero video about its core mission – to help small businesses take card payments. The documentary style 'real people' montage enables Paymentsense to tell multiple success stories in just 75 seconds.
The explainer
Generally the first port of call for fintech start ups, the explainer video does exactly that; explaining what your product or service does. Animation is a style commonly adopted for explainers – it's fun, engaging and can communicate your message in a way that is entertaining, memorable and unique. With animation, literally anything is possible.
In Habito's bold graphic animation, the customer's 'pain' is highlighted in an abstract setting filled with hundreds of hands clambering over the protagonist. Habito – in the shape of a set of keys with wings – comes to the rescue:
Moneyfarm's promotional video takes users on a journey through a combination of motion graphics, animation and a style affectionately known as 'hands and pans' (thanks to Tasty!). A point of view frame follows the journey of coins as it illustrates the processes at Moneyfarm.
With animated explainers, we're big fans of charming hand drawn illustration – like the explainer we created for AI company, One Big Circle. It describes the efficiencies and increased safety that AI video review brings to train operators:
The helpful video
Once your customers sign on the dotted line, your videos don't stop there. Videos are integral throughout the acquisition and retention process and may appear in the format of 'how to' tutorials, tips and instructions. Creating them in easy-to-find and digestible formats can simplify difficult processes and create great value.
Starling Bank leads the way – its YouTube channel features a TV-ready advert pinned to the top, alongside 'help' playlists such as #AskStarling and Steps by Starling, A How-to Guide:
Once you've decided on the styles of videos that work best for you, map them out using the Hero, Hub, Help framework. This will help you to co-ordinate your production and delivery times for your video into your marketing plan.
Finally, don't forget video content for your social channels. You may decide to create shorter iterations of your videos to sprinkle throughout social media. Or adopt a social first strategy, such as mobile business account service Anna. Whatever your brand identity, fintech businesses will need to get creative to survive the competition.